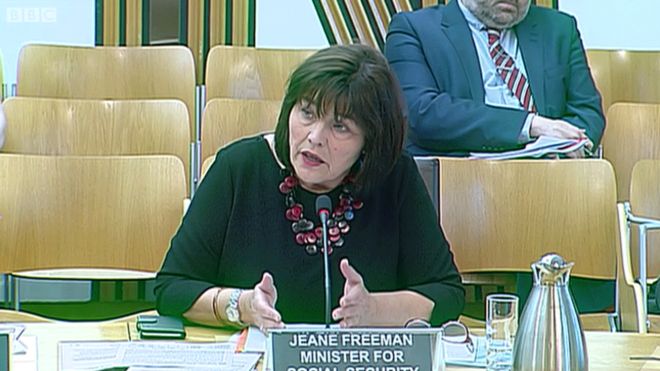 Jeane Freeman, Minister for Social Security
Govan Law Centre is concerned with the current debate on the Scottish Social Security Bill and we are calling on anti-poverty groups to back us to get this debate moving from "techno-speak", to what is really important for Scots.
The transfer of social security powers to the Scottish Parliament should at very least prompt a national debate on poverty, low incomes, and re-distribution of income. And what we are going to do about it. To date the debate has been about new government agencies, IT systems, inter-government wrangling, power transfers, and language.
What poorer families need now, is cash in their pockets.
The working Group on Child Poverty urged ministers to use new social security powers at Holyrood to fund an increase in child benefit. The group said an increase of £5 per child per week would lift 30,000 children out of poverty in Scotland, at a cost of £256m a year.
This is a start. So let's do it.

Or at very least let us debate it in the Scottish Parliament.
We need MSPs from all parties to back an amendment to the social security bill or a private members bill which proposes serious increases to benefits for vulnerable people in Scotland.
Otherwise what is the point. Scots gain nothing from administering benefits in Stirling rather than Blackpool. It makes no difference to their lives where laws are made, decisions adjudicated or benefits paid. As long as decisions are accurate, quick and without fuss, and benefit rates are increased.
Why, for example, has the Scottish Government not produced a report and recommendations into the inadequacies of the social security system? How we can increase the incomes of vulnerable people in Scotland, as soon as we possibly can. We thought this is what it was all about. Is it because the Scottish Government don't want to start this debate in Scotland? Is there no appetite to spend money on the poorest and tax the wealthy to pay for it? This is our chance to start building the Scandinavian social model many say we need and want.
Any new system needs be efficient to treat people with respect use the right language and make decisions quickly. And it will be complex to set up. It will need an IT system. But the Scottish Government have known this for a long time.
People in poverty cannot wait for years for a central administering agency to be set up in Scotland. We all know this will take years, and we will no doubt get a myriad of IT problems as we always do. But those on low incomes in Scotland need to know we are at least planning to make a step change increase in their incomes. Scottish ministers must get on top of this and lead the debate now. There is no excuse The Scottish Government has had years to prepare. They need to show people what can be done.
We need a substantive government report about how we can administer real increases in benefits in the meantime, while they set up a Scottish Social Security Agency.
Local government can administer payments, they already administer housing benefit and council tax benefit - even though policy was set centrally by UK statutes. Surely they can do the same for any other benefit using Scottish statutes? They have everyone's name and address.
Social work has powers under social work acts to make cash payments and arguably to set up benefits. They could be asked to make cash payments to disabled people who come within their care. We can use our imagination to make payments through self-directed care or other social work structures.
GLC's worry is that rather than having an exciting debate about increasing incomes, redistribution, poverty reduction and inequality, we are having disappointing debate about where powers lie, new government agencies, IT systems and difficulty ministers are having.
If we need to we can phase in benefit increases but let us start on what those increases should be, and how we will pay for them in the interim and long term. When introducing child benefit in the 1970s the UK had similar problems, but they passed legislation and phased in child benefit over a few years.
That is what we need to do this in Scotland.
This is important. We need to set the tone of the debate now. Those who have the powers to improve the lives of the most vulnerable must be held accountable. The Scottish Parliament will have power over at least eleven social security benefits. Much more if they use their imagination and put their minds to it. We can choose a different social model. Our Scottish Government wants the whole social security system, we need to hold them to account and ask if this is the debate we can expect to have then why bother?
It's not difficult. It's about political will. Govan Law Centre proposes a campaign that everyone can join to get this into the Scottish Parliament. Here's one example we've thought of that could be done quickly; there are many more which could immediately help the lives of people in Scotland.
A proposed
Increase in Child Benefit (Scotland) Act 2016
(1) There shall be a benefit to be known as Scottish child benefit.
(2) Subject to the provisions of this Part of this Act, a person who is treated as responsible for one or more children under the Child Benefit Act 2005 and is resident in Scotland, and whose child is resident in Scotland shall be paid an increase in child benefit called "Scottish child benefit".
(3) Scottish child benefit shall be paid by Scottish ministers from moneys provided by Scottish Parliament.
2

Meaning of "child" and "person responsible for a child"
(1) For the purposes of this Act a person shall be treated as a child for any week in which he is treated as a child by the Child Benefit Act 2005.
(2) For the purposes of this Act a person shall be treated as responsible for a child for any week in which he is treated as a responsible by the Child Benefit Act 2005.
3

Rate of increase for Scottish child benefit
(1) Scottish child benefit shall be payable at such weekly rate as may be prescribed by Scottish Government ministers.
(2) The weekly rate of child benefit will be no less than £5 per week per child.
(3) Rates may be prescribed in relation to different cases, whether by reference to the age of the child in respect of whom the benefit is payable or otherwise.
(4) The power to prescribe different rates under subsection (2) above shall be exercised so as to bring different rates into force on such day as the Scottish Ministers may by order specify.
(5) The power to introduce Scottish Child Benefit above shall be exercised on such day as the Scottish Ministers may specify by regulations.